Adherence, considered as the unifying force between the ceramic piece and the support, plays a very important role when it comes to the quality of the ceramic tile. The evolution of new ceramic materials with low porosity, resistance
to abrasion, ice, large formats, as well as the assembly or installation of
the same in industries, large commercial areas, façades, etc., lead to the development of adhesive products.
Knowledge acquired regarding the
use of special adhesives has led to the process of placement in thick layers (mechanical adherence) being replaced by a system of placement in thin layers (chemical adherence) which offers clear advantages, particularly related to the quality of the work, with regards to both adherence and durability. Therefore, a suitable adhesive will be chosen based on the placement surface and the type of ceramic tile.
When placing the ceramic tile, it is very important to use suitable tools and instruments (toothed trowel, white rubber mallet, spirit level and suction cup). It is also very important for the support or placement base to be very clean with no stains, leftover plaster, paint etc. so that the adherence can maintain its function over time.
The instructions from the adhesive manufacturer must always be taken into consideration.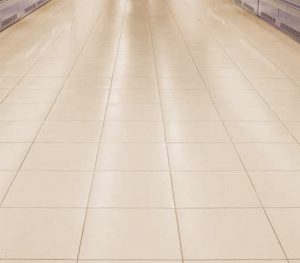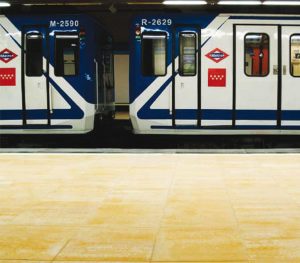 For correct installation of the ceramic product, it is important to always respect the movement joints: structural, perimeter, expansion and placement.
Structural joints
These must always be done as detailed in the project, specified by the specialist engineer or architect.
Perimeter joints
These must be continuous and have a thickness below 8 mm. Their purpose is to isolate the ceramic paving from other coated surfaces such as wall-floor joints (hidden behind the skirting board), pillars, doors.
Omitting the perimeter joints is one of the most frequent causes for lifting of ceramic tiles.
Partition joints
These allow the existing deformations caused by thermal variations between the tiles, the layer and the support. Large support surfaces coated with a ceramic product must be divided into smaller surfaces, defined by partition joints, the purpose of which is to avoid the accumulation of expansions and contractions. In floors that will withstand intense pedestrian traffic, rolling of hard wheels or dragging of heavy loads, specific partition joints must be used that are suitable for heavy loads.
Placement joints
For the safety of any structural movement (expansion-contraction),
there must always be a separation
joint, which will be between
all adjoining ceramic tiles. It is recommended to place with separation of at least 2/3 mm. There are several advantages of placement joints, they contribute towards absorbing deformations caused by the support and moderate tension that is generated in the lower part when supporting a load. The accumulated tension can cause lifting of the tiles. They also play an important aesthetic role, highlighting the beauty of the ceramic itself. The joints can have a flat finish, lie flush with the tiles or sunken concave.
The field of application covers indoor and outdoor cladding. There are also joint sealants with low porosity, are deformable and are water-repellent. It is suitable for façades, pavements that withstand heavy traffic and premises with persistent presence of water. For premises that frequently withstand the presence of acids and alkali, in premises for food or medical use, it is necessary to use a base sealant; reactive resins with two components such as epoxy sealants. This type of grout material is characterised by its composition with a synthetic resin base (usually epoxy resin). Its principal characteristics are: resistance to chemical products, bacteriological resistance, very high resistance to moisture and excellent resistance to abrasion.
The instructions by the adhesive manufacturer must always be taken into consideration.
The minimum separation between the product must not be less than 2-3 mm for indoors and 3-5 mm for outdoors.
Classification of sealants according to standard EN 13888:
CG2-MODIFIED CEMENT-BASED SEALANTS
Optional ArW (high resistance to abrasion and low absorption of water)
RG REACTIVE RESIN-BASED SEALANTS
Generally made of two components, epoxy base, they are resistant to chemical products, are completely waterproof and are highly resistant to compression.
Do not use placement joints if the composition contains micronised coal (black smoke), these must always be avoided.
Two types of techniques must be considered when placing the ceramic product: thick layer and thin layer.
It is important to highlight that the placement of porcelain stoneware requires a completely level surface, clean from any substances that impede correct adherence. It must always be placed with a thin layer, using a toothed trowel, white rubber mallet, spirit level and suction cup. For application outdoors and for formats measuring more than 900 cm2, the double glue technique must be used, i.e. Application of the adhesive product both to the support and to the back of the piece.
The instructions by the adhesive manufacturer must always be taken into account.
Thick layer placement
Es la técnica tradicional. Se coloca la cerámica directamente sobre el soporte (tabique, ladrillo, forjado o recrecido de arena-cemento). Esta técnica (capa gruesa) resulta más económica y también permite compensar defectos de planitud mayores. Material de agarre en capa gruesa se utiliza el mortero tradicional.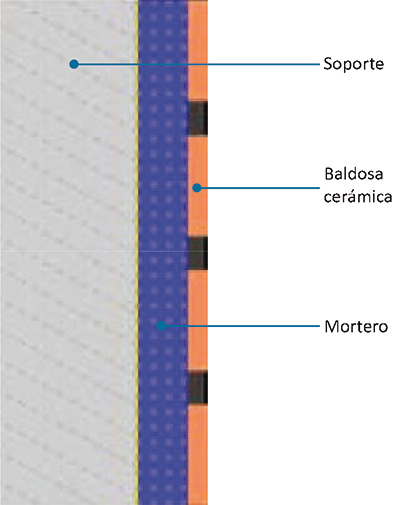 Thin layer placement (with adhesives)
Es una técnica de evolución más reciente, adaptada a los actuales materiales cerámicos y a la diversidad de soportes.
La colocación se realiza generalmente sobre una capa previa de regularización del soporte, ya sean enfoscados en las paredes o bases de mortero en los suelos.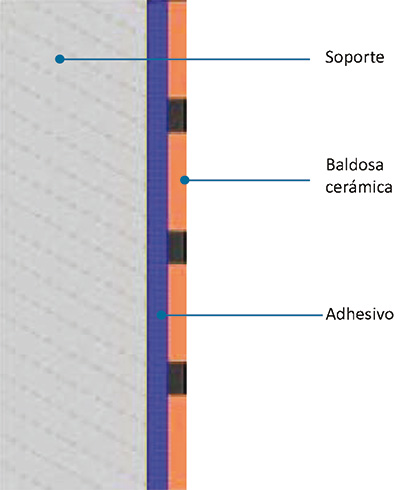 The advantages of this technique are evident, given that it is suitable for any type of ceramic tile and compatible with any support. There are adhesives that are suitable for any type of support and ceramic to be used. The rectification time is high. They absorb the deformability of the support and develop greater adherence. For bonding material for the thin layer, cementitious adhesive, adhesive paste and reaction resin adhesives are used. The following types of adhesive cements are considered, depending on the characteristics of the ceramic product to be installed.
The adhesives are classified according to standard EN 12004 and 12002 that define adhesion and deformability of the same.
C2 cement-based adhesives
Modified cement-based adhesives
 D2 dispersion adhesives
Modified dispersion adhesives
R2 reaction adhesives
Adhesives with a reaction resin base
Use and maintenance
of the porcelain stoneware
Given the low porosity of porcelain stoneware, it is practically impossible for it to stain.
However, some products with powerful dyes that spill or accidentally come into contact with the surface of the product, polished or semi-polished porcelain, may leave a stain if they are left on the surface for some time, and so we advise cleaning the surface as soon as possible.
Once the placement and grout process is complete, the surface of the ceramic material usually has remains of cement in the form of a film or small drops. To remove these, it is usually enough to clean with a solution of diluted acid.
Warnings
Acid should never be used to clean a newly placed ceramic product; acid reacts with uncured cement and may deteriorate the joints or leave insoluble composite on the surface.
The surface should be covered with clean water before using any chemical treatment (placement joints).
Regular maintenance consists of periodic cleaning by washing with water and a diluted solution of ammonium detergent.
Regarding sporadic cleaning of stains and incrustations that penetrate the surface and cannot be removed with the usual cleaning operations, before trying to remove a stain with an energetic procedure, test its effect on a piece that was not used. This prevents chemical damage that can deteriorate the condition of the product even further.
Follow the manufacturer's instruction
Do not use metallic spatulas or abrasive sponges.
After installation, suitable protection must be provided for the pavement using: cardboard, layer of sawdust or another product that protects it from possible damage that may be caused by later work.
To avoid breakages and any other undesired cutting, the correct tools for cutting and perforating the porcelain stoneware should be used.
To do machine straight cuts
by hand with a Widia roller, also diamond disc machine cooled by water and/or low power radial saw equipped with a continuous diamond disc (not segmented).
To perforate porcelain stoneware, use a diamond bit. Cool the perforation area with water periodically, this will avoid increasing the temperature and damage to the bit.
Placement tips for rectangular products
Do not install the pavement in an interlocking pattern where the distance is over 14 cm.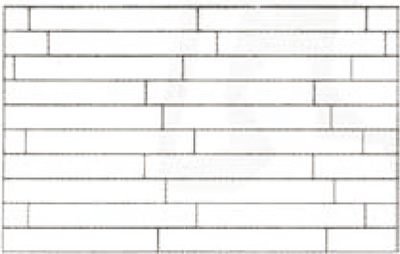 Interlocking placement
(between 2-20 cm)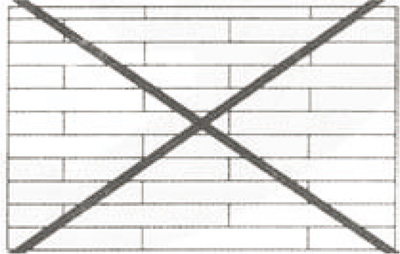 Regular placement with 50% offset
(NOT RECOMMENDED)
Safety instructions
for working with ceramic tiles
The information provided in this leaflet is based on our current knowledge at the date indicated, refers exclusively to the product stated and does not constitute a guarantee as to the specific properties of the product.  It is the user's responsibility to use the product in accordance with the recommendations and advice provided.